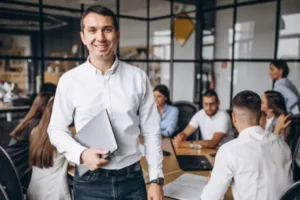 We are specialized in audit, accounting, consulting and tax for local and International companies of all sizes.
Our key differentiators are:
The direct and personal involvement of the partners in the conduct of the assignments and in the relationship with the client, in order to achieve quality and efficiency in delivery. At Expertisa, your contact is always an experienced professional, totally committed with the quality of the work and places you, the client, at the center of our firm.
A team with more than 30 years of national and International experience, with complementary skills, that shares the same values and the same vision of the highest professional standards, focused on delivering the best services to our clients. Our internal organization and the profile of our partners allows for great flexibility, and multidisciplinary skills.
Besides Portuguese, our working languages are also English, French and Spanish.
We act on different markets, with an extensive track record serving national and international companies in industry, retail, services and non-profit organizations.
Through our International Alliance, GGI, we can serve your company all over Brazil and also on the global market. For more information on our international alliance please go to www.ggi.com .
Contact us
Rio de Janeiro – RJ
Av Presidente Wilson, 165 - Centro
+55 21 99129-7636 (business hours)
contato@expertisa.com.br
São Paulo – SP
Rua Jaceru, 225 - Vila Gertrudes,
+55 11 98941-3255 ( 24hs/7 )
Working hours
Monday to Friday:
From 9 AM to 8 PM